A Piece of Chevy History is Here
Historical Chevy Bow Tie Sign Finds Forever Home at Vic Canever Chevrolet
The Chevrolet Manufacturing Plant, also well-known as "Chevy in the Hole" was a major part of the Chevrolet Legacy, in Flint, Michigan and beyond. Manufacturing at this plant began back in 1904 and employed as many as 14,000 workers. Back in the day, and restated in 2015 by Mayor of Flint, Dayne Walling, "(Flint) was the place where the lumber industry, the carriage industry, the auto industry all started and flourished."
The area of the Chevy in the Hole plant includes the property of the Chevy Sit-Down Strike from 1937. When the Great Depression hit in 1929, it hit the automotive industry hard. Production levels dropped and jobs were cut, causing many employees to lose their employment without any regard to seniority. The Sit-Down Strike was able to allow the workers to protest working conditions, fair wages and loss of jobs without the factories being allowed to operate or those people to be replaced.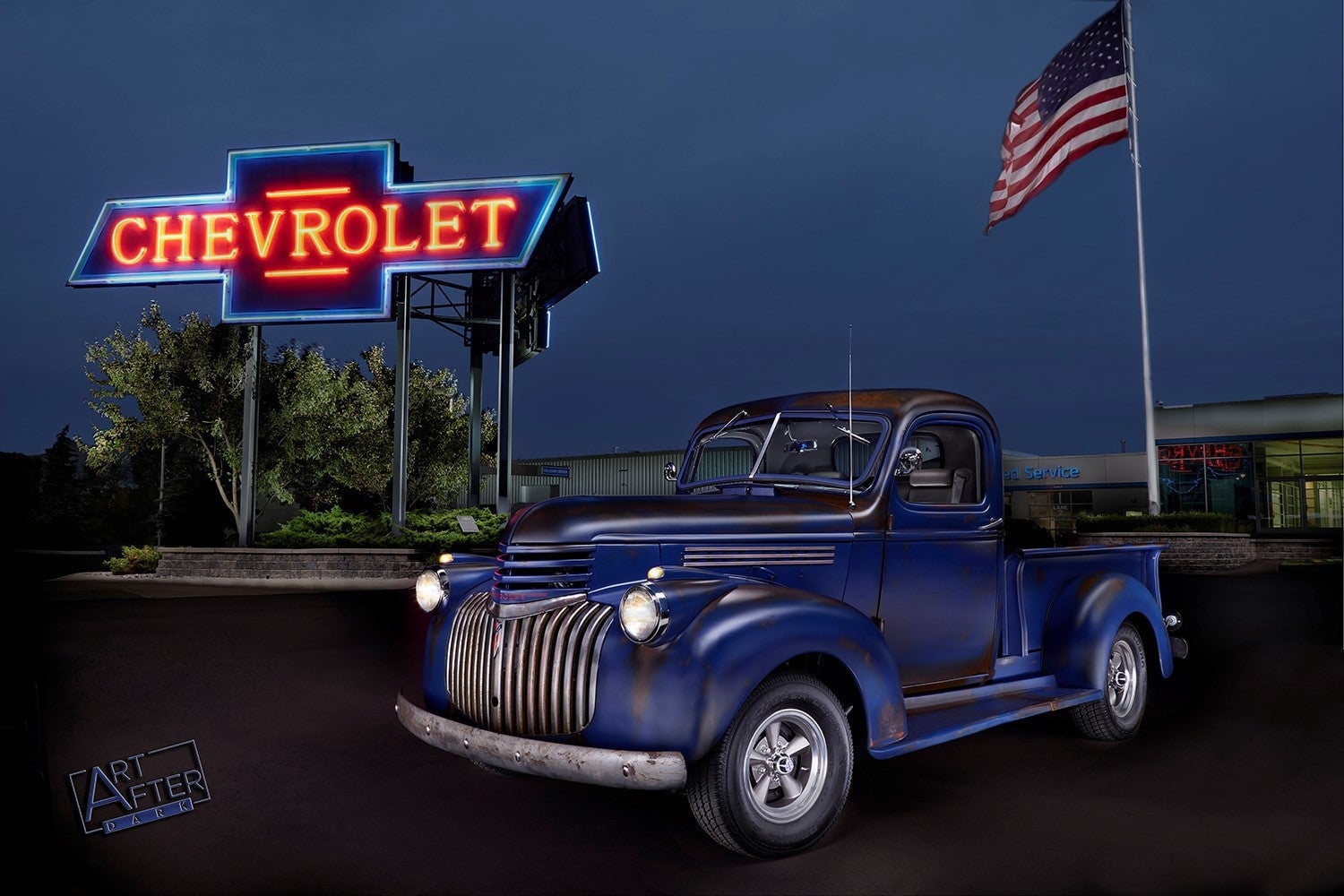 *Image created from photography by Don Ling of Art After Dark.
As time progressed, Chevrolet grew, and so too did it's need to brand itself. Part of the marketing of the Chevrolet Manufacturing Plant included a large and proud-standing two-sided neon bow tie sign, which was erected in the early 1930's. In 1986 General Motors' went through a reorganization which included the renaming of the plant, and the sign was taken down. The facings were separated, the sign was refinished and then re-erected in November of 1986 here at Vic Canever Chevrolet by Bill Carr Signs of Flint. It stands now as a dedication for the thousands of workers who have made Genesee County a great place to live, and made Chevrolet the greatest automotive nameplate in the world. What once was an icon in Flint now stands tall here in Fenton for all to see, and might we add, lights up the night sky beautifully.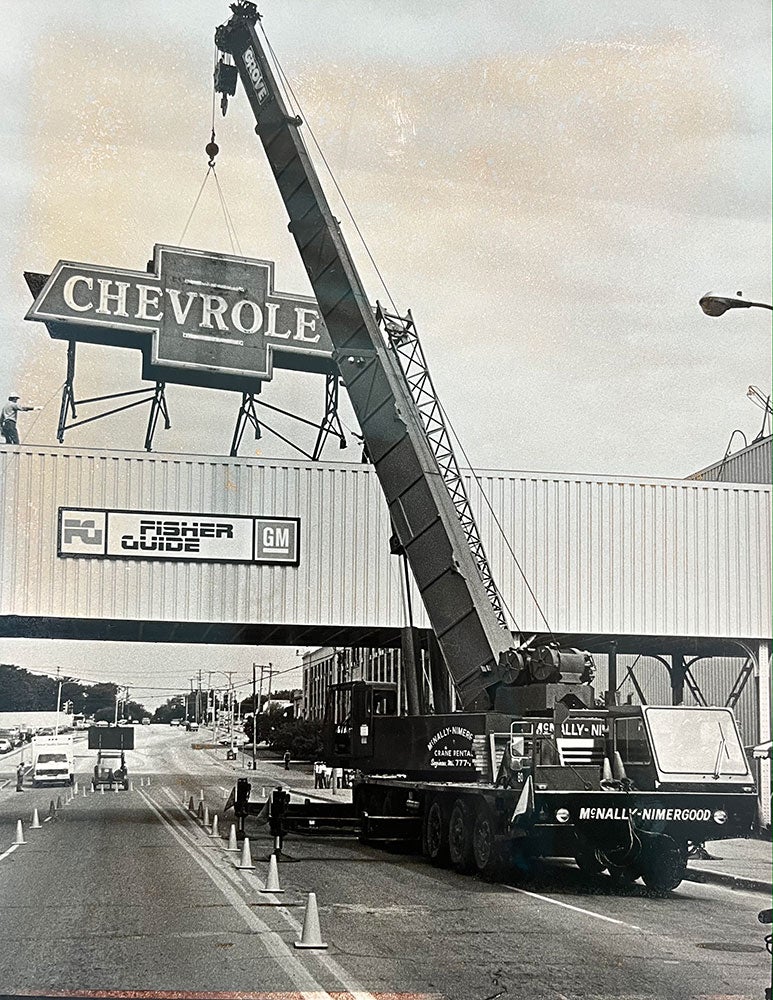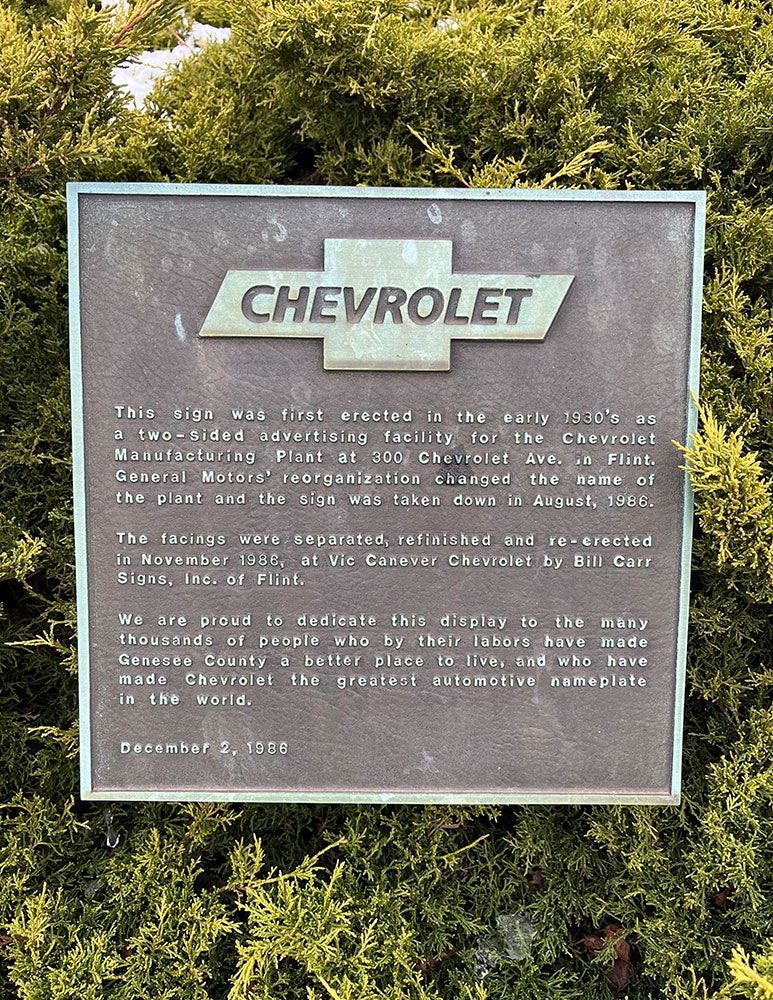 The original location of the Chevrolet Manufacturing Plant is now Chevy Commons, a park in downtown Flint. And despite shifts in the automotive industry and vehicle manufacturing changes, one thing has always stayed the same, the heart of Chevrolet will always be in Flint and Genesee County.